How is a Pelvic Floor repaired?
Pelvic floor surgery for prolapse has undergone major changes in the first years of this new millennium. Exciting new techniques have been developed with the laparoscopic approach. Laparoscopic suturing techniques are producing excellent results and new 'non-dissolving' suture materials (Dacron and Gortex) produce excellent long-term results.
I have been at the international forefront of this surgical revolution and have presented my results using the Tyco (American) Endo Stitch suturing device at the 2006 Australian Gynaecological Endoscopic Society Annual Scientific Meeting in Adelaide (May 2006; see below).
Beware though, as unfortunately not all recent developments in prolapse surgery have been good. There have been some disastrous outcomes with the use of mesh. I do not use mesh!
Laparoscopic pelvic floor repair using the Endo Stitch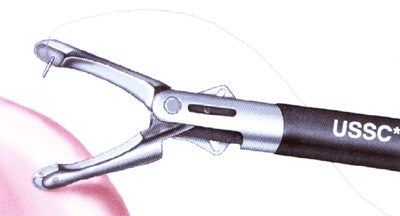 Abstract (May 2006): With the advent of the Endo Stitch™ (United States Surgical Corporation, a division of the Tyco Healthcare Group LP) in the late 1990's, endoscopic surgeons have been able to perform suturing and intra-corporeal knot tying with this ingenious device. Endoscopic upper-abdominal surgeons have been using this device with SurgiDac (Dacron) sutures to perform Nissen Fundoplications for hiatus hernia and reflux.
In 1999 I performed my first laparoscopic pelvic floor repair using this device. I perform a McCall type culdoplasty similar to the technique described by CY Liu (2005)1, dissecting and mobilizing the ureters from below. Liu uses Gore-Tex sutures as opposed to a suturing device. I have now performed 108 procedures with none requiring conversion to either abdominal or vaginal procedure. Two thirds were performed with laparoscopic hysterectomy. There were no direct ureteric or large bowel injuries or obstructions and one inadvertent cystotomy.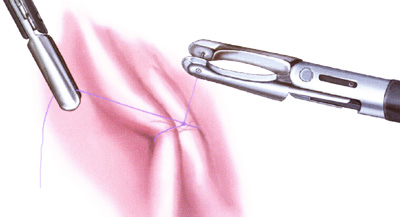 Originally I did not obliterate the enterocele sac as was the recommendation of Harry Reich (1999)2. Subsequently a patient required a laparotomy and bowel resection for obstruction secondary to incarceration in the enterocele sac a few months after the original surgery. Now I include large 'bites' of the pararectal tissues below the uterosacral ligaments and incorporate them into the repair. I believe these add important support to the repair.
One patient early in the series required a vaginal repair of rectocele three months after the original procedure. One patient developed a port site herniation of small bowel requiring an open reduction three days after original surgery (no bowel resection required). Two patients have required a repeat procedure that I will describe in detail.
Conclusion: Pelvic floor repair for vaginal vault prolapse can be adequately performed laparoscopically using the Endo Stitch device.
Presentation:
See the PowerPoint Presentation file from the 9th ASM of AGES conference in Adelaide (1999).
References:
Lin LL, Phelps JY, Liu CY. Laparoscopic vaginal vault suspensions using uterosacral ligaments: a review of 133 cases. J Min Invasive Gynecol 2005; 12: 216-20.
Reich H. Post hysterectomy cuff prolapse. IXth ASM of AGES May 27-29, 1999; Adelaide, SA.