| | | | |
| --- | --- | --- | --- |
| Compare... | Laparoscopic Hysterectomy | Abdominal Hysterectomy | Vaginal Hysterectomy |
| Hospital Stay | 1-3 days | 4-6 days | 2-4 days |
| Return to Work | 1-3 weeks | 4-6 weeks | 2-4 weeks |
| Cosmetic Results | 3-4 tiny marks | 4-6 inch scar | No visible scar |
| Recuperative Pain | Minimal | Significant | Minimal or Moderate |
| Ability to Remove Ovaries | Easy | Easy | Difficult or impossible |
What is a laparoscopic hysterectomy?
Until recently having a hysterectomy could mean four to six days in hospital and up to six weeks at home recuperating. Now a new technique, Laparoscopic Hysterectomy, is changing all that. Compare the facts:
Laparoscopy was pioneered by gynaecologists in the 1970s and has been widely used in a range of procedures, including tubal ligation, removal of ovaries and fibroids (benign fibrous tumors of the uterus), and the treatment of tubal pregnancies.
The Laparoscope has only recently been used for hysterectomy, and is now widely used by other surgeons for gall bladder removal, appendectomy, hernia repair, and lung and bowel surgery.

How the operation is done...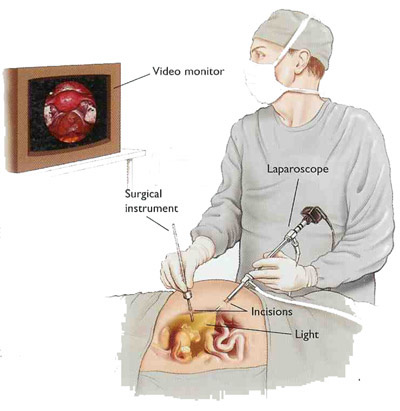 Using a trocar (a narrow tube-like instrument) the surgeon enters the abdomen through the navel. The laparoscope, which is a tiny telescope connected to a camera, is then inserted through this tube. The surgeon is then able to see the patient's internal organs enlarged on a video monitor.
The picture on the left shows the normal entry points of the 'trocars' for Laparoscopic Hysterectomy.
The cutting and stapling instrument (called the 'Multifire Endo GIA' stapler) is used to detach the uterus and seal its supporting vessels with triple rows of tiny staples.
The uterus is then removed through the vagina and the minute incisions on the abdomen are sealed with sutures. Within a few months these small marks are barely visible.
In Australia the Laparoscopic Hysterectomy is starting to become popular with 10-15% of all hysterectomies being done this way. Discuss the possibilities with your doctor, or ask for a referral to a specialist who performs this type of surgery.